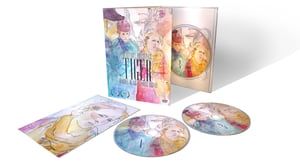 $

19.00 - On Sale
TIGER is the first, heartbreaking feature from Beaufort. An intimate romantic drama about two models who fall in love during the winter fashion season in Tokyo, only for their relationship to combust when their stay extends.
This cinematic EP from the makers of the 'Fun Punch' music video by Bag Raiders was shot on luscious 16mm film featuring a cast of models who were working in Tokyo at the time and ranges from the cramped agency apartments of downtown Omote-sando to the snowy fields of Kurohime. TIGER is the only non-Japanese film to have been selected for official competition in the prestigious Japanese Pia Film Festival.
There is a huge amount of extra content on this two-disc set, including deleted scenes, model interviews, short story booklet, a data disc containing an entirely separate extension soundtrack composed by Beaufort and a mobile-ready Japanese subtitled version for watching on the train. This version is PAL and ALL REGIONS.
Shipping is a flat rate of $8AUD.
www.beaufort.asia